Things that don't fit neatly into an existing category!
Promethean flipcharts
The 16 Promethean flipcharts are now in this section.
For use on Promethean Whiteboards only, these resources are Flipchart files compressed into .zip format for quick downloading.
Mr Thorne Does Phonics
We now have 4 Phonics videos from the series by a Year 1 London teacher showing on You Tube.
Countdown Timers
After a few request we have found and have just added 4 Countdown Timers that might be useful for some classroom activities.
Quizzes
We are hoping that you can help expand the quiz section by sending in your own question and answers.
What next?
Any suggestions to expand these resources are welcome. Meanwhile we'll be scouring the internet for ideas.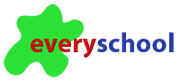 Our sister site, everyschool.co.uk, provides a one stop shop for busy teachers searching for internet based resources.
The
1700+

links are sorted by subject > key stage > topic.
Where possible they try to follow the relevant strategy, framework or scheme of work.