14 Geography Games for Kids. Key Stage 2, Primary/Elementary, Ages 8-11 Years.
Geography interactive teaching resources for your IWB, PC and Mac. Play the US Map Game and test your knowledge of US States. Help your child learn with these free fun children's games and activities.
US Map Game
This drag and drop game tests knowledge of the location, shape and size of various states within the USA. Instant feedback is given along with a score of the time taken.
A Village In India
This application consists of three parts. The photographic annotation section allows for the easy annotation of images of a typical Indian village. Section 2 is a map labelling activity, for whole class & independent work. The third section, home comparison is an open-ended research and writes activity that uses images to compare village homes in India and England.
India lesson outline
Coastal Features Jigsaw
Five photo jigsaws based on the topic of Coasts.
Customize using the picture, style, number of pieces and rotation features.
River Features Jigsaw
Seven photo jigsaws based on the topic of Rivers. Customize using the picture, style, number of pieces and rotation features.
Investigating Coasts
A simple three part activity comparing, annotating and labeling coastal features using photos and diagrams.
Rivers Wordsearch
Can you find these terms that are used when describing river features?
Rivers Word Drop
Try to arrange the letters into the correct order to spell the word before they reach the bottom.
Rocks & Valleys Gallery
12 photographs illustrating rocks, valleys and geological features form the U.K and around the world. By kind permission of GEOPHOTOS.
Coasts Gallery
10 photographs coastal features form the U.K and around the world. By kind permission of GEOPHOTOS.
World Countries Hangman
Classic style hangman game. Can you work out which country it is?
Drought - Read Alone Information Book
A simple TESiboard, read-alone explanation book based on the problems of drought.
Geography Encyclopaedia
This TESiboard encyclopaedia-type book covers earth sciences and how forces inside and outside the Earth shape the landscape, weather, habitats and the way we live. The book has simple text, illustrations and pop-ups of additional definitions on each page.
Geography Decision Tree
This method of organising data is sometimes referred to as a 'branching database' or a 'Key'. A difficult concept to teach, this activity helps structure the sorting by allowing small numbers of items to be sorted first by asking yes/no questions. Introduce additional items by moving them down the tree, adding questions as required to further separate the items.
Mock Web Site
A TESiboard 'mock website' on geography. Includes illustrated, simple text and supports reading for information, as well as being a useful source for research during a geography or science topic. Pupils can use the contents and index pages to navigate around the pages.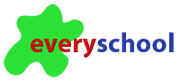 Our sister site, everyschool.co.uk, provides a one stop shop for busy teachers searching for internet based resources.
The
1500+

links are sorted by subject > key stage > topic.
Where possible they try to follow the relevant strategy, framework or scheme of work.