253 free educational interactive teaching resources and activities for Primary/Elementary Schools.
77 free to use fun kids games/activities for kids aged 4 - 11.
165 plus links to free interactive teaching activities, educational games, image and software resources.
Suitable for use on an IWB, PC or Mac at school.
Also for teachers, parents & children at home with a PC or Mac.
Online educational learning games and activities for Foundation Stage, Key Stage 1, Key Stage 2, Kindergarten and Elementary schools.
Subjects including:
Maths, English, Science, History, Geography, R.E., D.T., I.C.T, French and Spanish.
Stay up to date with the Crickweb News or subscribe to our RSS feed.
Web Server Move
08 December 2013
Our web server is being moved to a new high-performance data centre on Thursday 12th December 2013. It should happen in the early hours of the morning, around 02:00hrs GMT, and will mean the site will be off-line for up to 4 hours. Sorry for any inconvenience caused.
Young Sports Reporter of the Year
23 November 2013
The National Schools Partnership have launched their "Young Sports Reporter of the Year" competition. There are free educational resources help teachers to meet literacy and SPaG curriculum objectives as well as developing pupils' creative writing skills. They include teacher notes, top tips and five bespoke films, all of which culminates in a competition to write a stirring newspaper report of the Oxford Cambridge Boat Race.
Dogs Trust - A Dog Is For Life
08 October 2013
Dogs Trust Education Officers are available to deliver FREE interactive curriculum linked workshops to primary schools throughout the UK. The key messages surround themes of 'A Dogs Needs', 'Responsible Dog Ownership' and 'How to Stay Safe Around Dogs' and are linked to the Curriculum supporting Literacy, Numeracy, Citizenship, Science and more!
They have a range of FREE resources from early years to KS4 available to download from their website www.learnwithdogstrust.org.uk Please visit to find out more about what their Education Officers can offer you and your school.
Fun Games 4 Fixed
19 September 2013
Apologies, we have just noticed that it wasn't possible to open any of the games on the Fun Games Four page!
This has now been fixed and all the games should open correctly.
Server Downtime
02 September 2013
Unfortunately our web server suffered a failed hard drive, which was quickly replaced. However, copying all the data across took several hours and meant the site was off-line for several hours today. Steps have been taken to ensure any similar failure will be dealt with more quickly in future.
Here are a few of the latest free interactive resources added to our site.
(Click the resource image to open the resource)
Ball Juggling
A number functions, three level game based on football. It's time for some ball juggling practice, answer the maths questions before the balls hit the ground.
Geography Encyclopaedia
This TESiboard encyclopaedia-type book covers earth sciences and how forces inside and outside the Earth shape the landscape, weather, habitats and the way we live. The book has simple text, illustrations and pop-ups of additional definitions on each page.
Geography Decision Tree
This method of organising data is sometimes referred to as a 'branching database' or a 'Key'. A difficult concept to teach, this activity helps structure the sorting by allowing small numbers of items to be sorted first by asking yes/no questions. Introduce additional items by moving them down the tree, adding questions as required to further separate the items.
Mental maths
Can you work out what the machine is doing to each number you put in?
One Man Team
A cross curricular game based on football. Use your skill to answer the questions, then dribble past the defender and score.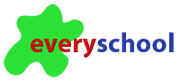 Our sister site, everyschool.co.uk, provides a one stop shop for busy teachers searching for internet based resources.
The
1500+

links are sorted by subject > key stage > topic.
Where possible they try to follow the relevant strategy, framework or scheme of work.